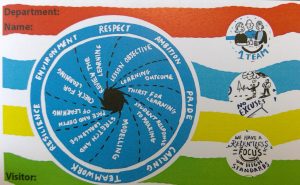 Rationale
Remembering our Vision and Values…
Integrity
As a professional learning community, we value teachers who honestly and openly reflect upon their own strengths and areas for development. Every teacher has more to learn. Every teacher can learn from a colleague. Every teacher can learn from the students they teach. We must have the integrity to be honest about our strengths and weaknesses, seek out help from our colleagues and remain open to continuous learning.
Compassion
Our teachers are a professional learning community. We learn from one another, openly share our ideas, and reach out to our colleagues when they need inspiration, guidance or help.
We also believe in the unlimited potential of young people and strive to understand and empathise with them, planning lessons that help them think, challenge their understanding, and learn from them.
Courage
To truly be an outstanding learning community we need to have the courage to take risks in our teaching. We must create an inclusive forward-thinking school. Sometimes, we will try and at times, we will fail; but we will fail gloriously and not with a whimper; we must encourage our students to behave likewise. The Senior Team must also have the courage to actively promote and celebrate responsible risk taking in the classroom, unafraid of external forces that might attempt to stifle our creativity. Staff need to feel they have the freedom to be individuals whilst meeting clear expectations.
We must celebrate together, acknowledge strengths and areas for development together and learn together.